Dough is a classic tool used by parents and therapists for decades to bolster sensory development through messy play which is known to encourage growth related to the three pillars of early childhood development (ECD). Taste-safe doughs are the ideal addition to sensory bins for children of all ages. The added benefit of taste safe doughs is you don't need to worry about the doughs accidentally making their way into your curious little one's mouths. Here are a few types of taste-safe doughs to make at home with your children:
Chocolate Dough Recipe
Kids love anything chocolate flavoured to add to their playtime and chocolate play dough is no exception. This dough is a deep brown hue and resembles the texture of cookie dough. Please note - This recipe requires the use of boiling water. Please take caution when handling boiling water, especially around small children. Always ensure a parent or supervising adult is available to help with this part of the recipe - children should not handle boiling water.
Ingredients:
2 cups plain all-purpose flour

1 cup salt    

1/2 cup cocoa powder*

3 tablespoons edible oil (vegetable is acceptable)

2 cups boiling water

2 tablespoons cream of tartar

4-5 drops coconut oil
* Substitute ½ cup strawberry milk powder and a teaspoon of red food colouring to make pink dough
Instructions:
Mix the dry ingredients in a bowl then add the oil and make sure it's well combined. Next add the boiling water, a cup at a time, stirring the mixture until it's fully incorporated. Add the coconut oil and allow to rest for a few minutes to cool down.

Work the dough with the palms of your hands to bring it together. Turn it onto the workbench and knead for several minutes until it reaches the desired texture. Kneading should bring the dough to the point where it is super soft, stretchy and smooth.
The dough can be made ahead of time and stored, fresh for up to two weeks in an airtight bag or container in the fridge.
Make this playdough recipe perfect for Valentine's day (or a ballet-mad little one) by mixing adding pink strawberry flavoured milk powder and a teaspoon of red food colouring instead of cocoa powder. Completely taste-safe and plenty of pretty pink fun!
Grab some cookie cutters, moulds and rolling pin and fill your days with fun, educational mess. But don't worry about spills - OMO products are ideal for tough stain removal so that you can enjoy these messy activities with your little ones.
Peanut butter dough Recipe
This recipe can be used for a fun activity, and a snack all rolled into one - pun intended. The dough is perfectly rolled into balls and served as peanut butter bonbons in lunchboxes and as snacks. Peanut butter is an excellent source of protein, and the activity is ideal for rainy days stuck indoors. The final product's texture should resemble a firm, shiny biscuit dough.
Ingredients:
1 cup smooth peanut butter

1 1/2 cups instant powdered milk (paediatric milk formula is fine for smaller kids)   

*Substitute ½ cup powdered milk with ½ cup powdered sugar

3 tablespoons honey
Instructions:
Stir together peanut butter, instant milk and honey.

For a slightly sweeter option, ½ a cup of the milk powder can be substituted with the same amount of icing sugar.

Bring it together with your hands and knead the mixture until smooth and pliable. If the dough is too wet, add a sprinkle powdered milk at a time until it reaches the desired texture.

If the dough is too dry, add more honey.
Store the unused dough in the fridge for up to two weeks, and the used dough should be discarded.
A sweet smelling dough is hard for anyone to resist. Your little ones will be tempted to eat more than play, so it's always a good idea to supervise smaller children while they engage in messy play. Take the stress out of your messy play activities when you turn to OMO detergents for stain removal.
Jelly Dough Recipe
A box of jelly mixture is an incredibly versatile ingredient for messy play. It has the gelatinous texture that skirts the line between liquid and solid and makes for a delicious additive in taste-safe slimes, doughs and ice shapes. This particular dough has springy texture but is soft and malleable. Make sure a parent or supervising adult is available to help with the part of the recipe that requires cooking - children should not handle the hot ingredients.
Ingredients:
1 cup flour

1/2 cup salt  

1 cup water

1 tablespoon oil

2 teaspoons Cream of Tartar

1 (80g) packet of Jelly
Instructions:
Mix all ingredients in a pot or saucepan and cook over medium heat.

Stir continuously until the mixture is the consistency of mashed potatoes. Remove from the heat and transfer to a heatproof bowl and allow the mixture to cool.

Knead the cooled mixture with floured hands until dry it reaches the consistency of traditional biscuit dough.
Make different flavoured jellies for batches of different colours and smells. Ensure that the recipe is completely cooled before storing it in an airtight container for up to 1 week. If the playdough dries out, cover it with a damp paper towel, then store in an airtight container overnight. When you are ready, work the dough with your hands until it softens to its original texture. And when it comes to the mess, OMO detergents are here to help you tackle stain removal so that your little ones can focus on the job of playing and learning.
Marshmallow Dough Recipe
This is a stretchy, springy dough your little ones will just love. Make sure a parent or supervising adult is available to help with the part of the recipe that requires cooking - children should not handle the hot ingredients.
Ingredients:
12 large marshmallows (about 2 cups)

2 teaspoons coconut oil

Food colouring (optional)

8 to 10 tablespoons cornstarch
Instructions:
Place the marshmallows and 2 teaspoons of coconut oil in a large microwave-safe bowl.

Microwave on high until the marshmallows puff up slightly, about 30 seconds, being careful not to burn them.

Add a few drops of food colouring or flavour extracts if desired and mix well.

Add the cornstarch 1/3 at a time and stir until a thick dough forms. Add the final portion, slowly taking care not to make the mixture too floury. Leave out a few tablespoons of cornstarch if necessary.

Next, remove it from the bowl to the counter with caution — the dough may still be warm.

Knead the mixture dusting the dough with cornstarch a teaspoon at the time if necessary. The dough should be pliable but not sticky.
Add a drop of rosewater or flavoured extracts to elevate the recipe of an additional sensory level. The mixture can be stored in an airtight container until it's ready to use. Do not store used dough mixture. Don't stress about the mess. Enjoy the messy play with your little ones and leave the struggle of stain removal to OMO's range of trusted detergents designed for removing stains.
General additions:
As additional sensory features, you can add a few drops of edible glitter, essence, extract, food colouring, hundreds and thousands and sprinkles adding a pop of colour and enchanting textures to your messy play adventures. These doughs are ideal when enjoyed with other sensory features such as toy animals, water beads, strings, pasta and rice.
Load a sensory bin with these great ingredients for hours of stimulating entertainment. Remember, when putting non-edible pieces into your taste-safe doughs to clearly indicate to your children that they are not for eating. Use rolling pins, moulds and cookie cutters to create shapes and patterns with your play dough.
There are so many great ways to use sensory bins and messy play for hours of entertainment. So, why not share some of your ideas and success stories with us on Facebook.
Storage
Storage for each dough varies. Check each recipe for specific storage instructions and guidelines. Remember when using food ingredients such as peanut butter storage times can vary greatly, so always check the dough before you play with it.
Use dough as a fun textural addition to sensory bins to encourage messy play which is a fundamental cornerstone of early childhood development. For washing tips, ideas for laundry care and fund ideas and activities for kids take a look around.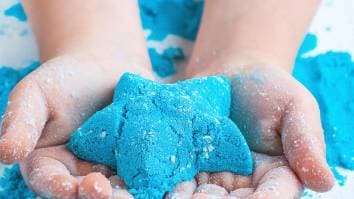 Here are some great activities for kids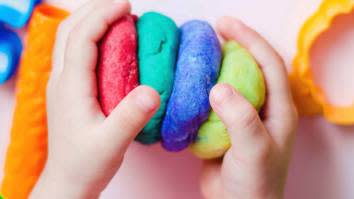 Playdough recipes for sensory messy play
Here are some great safe activities for kids that can be done indoors.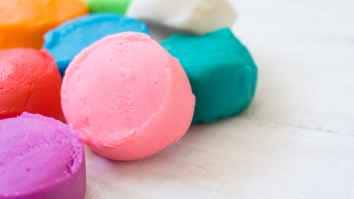 A cost-effective way to make a fun toy for kids! Get some adult help with the preparation, however the dough is completely child-friendly and not harmful if swallowed accidentally