On the one hand, play dough is just plain whimsical fun, but play dough is also a typical device used in messy play for sensory development. Sensory development is a recognised contributor to the three pillars of early childhood development (ECD). Play doughs are, therefore, a fantastic addition to sensory bins for children of all ages. Here are a few types of play doughs to make at home with your children:
Basic Dough
Basic play dough is something every parent should have in their messy play collection. It's ideal for a rainy day game or paired with a cognitive learning activity for kids such as colour naming and grouping. The texture of the dough is smooth and pliable for hours of creative and of course, messy play.
Please note - This recipe requires heating. Please take caution when children are participating in this activity. Always ensure a parent or supervising adult is available to help with this part of the recipe. Small children should not handle stovetop cooking unsupervised.
Ingredients:
2 cups all-purpose flour    

3/4 cup salt    

4 teaspoons cream of tartar

2 cups lukewarm water

2 tablespoons of vegetable oil or coconut oil
Instructions:
Combine the flour, salt and cream of tartar in a large pot or saucepan. Next, add the water and oil and mix gently.

Begin to cook the mixture over medium heat, stirring continuously. Keep going as the dough begins to thicken, it will eventually start to pull away from the sides and form a ball. Remove the pot from the heat and allow it to cool in a heatproof bowl or some wax paper.

When it has cooled enough to handle then knead the dough until smooth.

If you would like to make different colours, divide the dough into balls and add a few drops of your food colouring to each ball - add more to brighten it up or less for more pastel tones. Add non-toxic neon/glow in the dark paints for a fun variation of this recipe.

You can knead the dough inside a zip-seal bag, so it doesn't stain your hands. Once it's all mixed, playtime can begin!
Store the play dough in resealable bags or containers to keep soft - our OMO capsules boxes are airtight and so perfect for storing playdough in. If stored correctly, the dough will stay fresh for up to 3 months. If the dough dries out, knead one tablespoon of water at a time to refresh its texture and pliability.
Beet, spinach, and carrot juice are great for adding colour to your doughs, these are a fantastic natural option for little hands. To add natural scents opt for extracts and small amounts of natural essential oils. Note: be sure to check the respective labels for warnings relating to children and skin allergies.    
Messy play can be, well, messy! But don't worry about spills, OMO detergents are designed for tough stain removal
Every Colour Dough
If your little ones are learning about colours or you just feel like the more colours, the more fun, then this recipe is for you. This dough is also a simple no-cook alternative to the basic playdough recipe. The texture is soft and pliable, like cookie dough.
Ingredients:
4 cups flour

1/4 cup finger paint or a few drops of food colouring (the more colouring you use, the darker the colours will be)  

1/4 cup salt

1 1/2 cups water

1 tablespoon oil        
Instructions:
Mix together the flour, powdered paint or food colouring, and salt.

Next, slowly mix water and oil.

Gradually stir the oil and water into the flour mixture until all combined. Knead the mixture to bring the dough together. You can add a little more water if it's too dry or a little more flour if it's wet.
Because paints are often available in a fantastic range of colours, you will have loads of options to make your dough more fun. Be sure to check the label of your paint for a non-toxic version. School-grade powdered paint is usually washable and non-toxic, while food colouring is both food safe and ideal to help your kids learn about colour mixing. The dough can be stored in resealable bags or containers for up to 3 months. Much like basic playdough, if the dough dries out, knead one tablespoon of water at a time to refresh its texture and pliability.
Worried about paint stains? Don't stress, OMO laundry products help with removing tough paint stains that result from a good day's play.
Toothpaste Modelling Dough
This dough is perfect for sculpting as it will begin to harden after 20 minutes and set hard after 24 hours. The texture is somewhere between traditional playdough and a slime, let's call it a putty-dough. If you are keen on making ornaments and sculptures with your kids, then this one's for you. Make shapes of your favourite animals to learn their names and sounds.
Ingredients:
1 tablespoon of liquid white glue

2 tablespoons of cornflour

½ tablespoon of water

½ tablespoon of toothpaste (white is best although if it's coloured you don't need to tint it as much)

1-2 drops of food colouring
Instructions:
Combine the glue, cornflour, food colouring, and toothpaste in a bowl.

Next, add water and mix until the dough forms a firm paste.

Because it hardens after 20 minutes and will set after 24 hours the dough cannot be made in advance.
Create fun shapes with ice trays, candy moulds and cookie cutters or simply sculpt the dough into renderings of your imagination. If you can dream it, you can make it.
Enjoy the messy sensory play with your little ones and leave stain removal to OMO laundry detergents
Moon Dough
This dough seems to have a mind of its own – a sort of kinetic quality that makes it so much fun to play with. It has the texture of dough when compacted but when moved the dough has a lifelike movement about it.
Ingredients:
1 cup of extra fine play sand or washed plaster sand (these are the types of sand you might find in a sandpit and is readily available in hardware stores, hypermarkets and toy stores)

1/2 cup of cornflour

1 tablespoon of dish soap

1-5 drops of food colouring

1/4 cup of water    
Instructions:
Combine 1 cup of extra fine sand, 1/4 cup of cornflour, 1 tablespoon of dish soap, and a few drops of food colouring in a bowl.

Next, pour in 1/4 cup of water and mix.

Add the remaining 1/4 cup of cornflour, mix it well and let it sit and dry for a few hours (2- 3 hours will do).
Moon dough can be stored in an airtight container or sealable packet for up to 6 months. Use this dough along with other doughs to offer textural variation to your kids' messy playtime.
Don't let the thought of stains stop sensory development through messy play. Leave the mess, stains and spills to OMO to take care of.
General additions
If you are looking to elevate a dough recipe to the next level, you can spruce up your basic dough recipe with different gauged and coloured glitters, scents, glow in the dark paint, bird seeds, uncooked rice and other grains. Add these along with other sensory bin fillers for a beautiful world of messy play. Encourage kids to imagine a swamp filled with different terrains and toys along the way. Or envision a multi-terrain adventure complete with other messy play tools and fillers.
There are plenty of fun ways to take your dough to a whole new world. Why not share some of your ideas and successes with us on Facebook.
Storage
Most play doughs can be stored in an airtight container indefinitely, however, they can dry out, leading to texture changes. Add 1-2 tablespoons of water at a time to revive stored doughs that have hardened or dried out.
Use doughs in your sensory bins as a filler to encourage sensory play – not only is it an excellent activity for kids to learn through play, but it has the added benefit of being messy play.
And don't worry about spills and stains on your little one's clothes during messy play activities, OMO washing powder and other laundry products are ideal for stain removal. Take a look at more washing tips and fantastic products to help you too.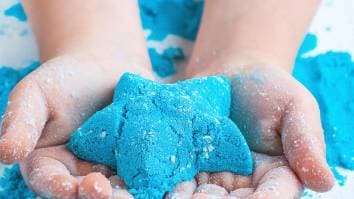 Here are some great activities for kids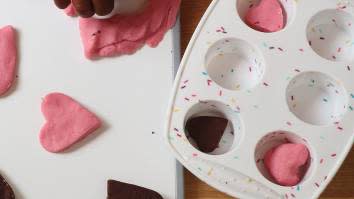 Here are some great safe activities for kids that can be done indoors.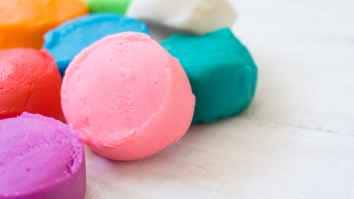 A cost-effective way to make a fun toy for kids! Get some adult help with the preparation, however the dough is completely child-friendly and not harmful if swallowed accidentally